I've been getting summer catalogs from various companies over the past couple weeks and I am in love with basically everything. This is a huge concern because my bank balance is currently lowww and with my summer travel dreams there's not alot of shopping allowance. For the most part I will be waiting to shop until end of summer sales come along, but until then I can dream ...
Taste of My Wishlist:
This dress looks like a classic Lilly shift in a Vineyard Vines print. It's fun while being a little more toned down than most Lilly print. And the price is pretty good as well, I had expected it to be about $100 more ... so that's a plus.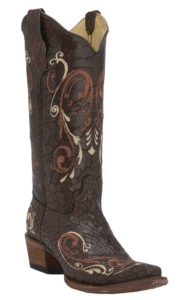 I haven't bought a fun pair of cowboy boots in a couple years. The ones I have are also from Corral and they have held up really well so I've been looking to buy another pair specific from them. Their new Circle G line look great and the price is nearly half of what I paid for a pair from the Vintage line. I want a darker boot and the texture of this one is really neat (seriously check out the close up photo, it's gorgeous) and the selling point for me.
I really dislike the color red. Alot. Like, you will not find a single red item of clothing in my closet. People have told me that I look good in red, but until now I have actively avoided anything in the color. As a goal for my closet I'm hoping to add a teeeeensy bit of red. This shep shirt is the perfect item to do so.
This dress came out a while back, but it's new to my wishlist. I saw it while shopping on
Sideline Sweetie
(my favorite online boutique <3) and fell in love. It's just so sweet and fun. It's even red! (ish.)
I love my Birks just as much as every other Portlander. They're the Jack Rogers of the Northwest. I only own one pair that I bought when I was 15 so it seems about time for another. They have alot of fun colors and designs. I'm particularly fond of this gold one.
There's a glimse of my current wishlist. Share with me something you're eying ...