Happy March everyone! This is always a busy month for me. Here's a brief list of what I have going on over the next couple weeks: my mom's birthday, my birthday, a few other birthday's as well, two national debate tournaments in Kansas City, midterm galore, and spring break. It's going to be tons of fun, but also really stressful.
The combination of March stress and my need for new spring clothes always ends with me doing an absurd amount of shopping. I've already been scouting my potential purchases. Lately I've been obsessed with dresses so that's mostly what I've been searching for. Here's a list of what I'm eyeing right now.
If you have any cute dresses you've found make sure to share them with me!
Anthropology
I lovee chambray and off-the-shoulder dresses. This is seriously perfect. Wouldn't it look adorable with a pair of cowboy boots?? I just need it to go on sale so I can afford it - please and thank you.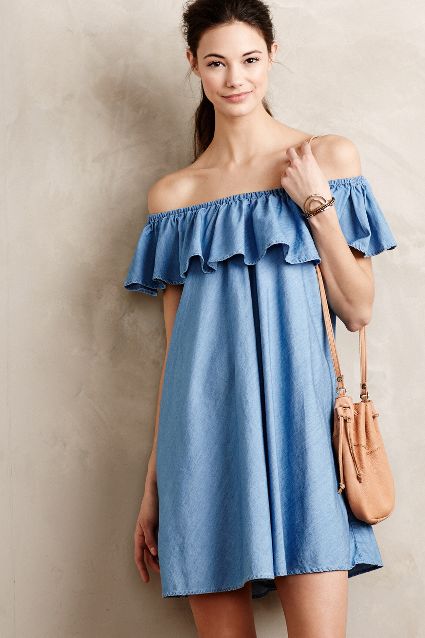 Lauren James
I was so excited for this to come out. It's so sweet and perfect. The pink is my favorite. Unfortunately the dress started selling out almost immediately. I assume they'll get more in stock so I'll just have to wait. :(
Vineyard Vines
Vineyard Vines has a lot of cute spring tops this year. This one is my fav because - tassels. They're so fun and cute. I want basically everything I see that has tassels. The ruffled sleeves are also adorable and really popular right now.
Fire
Here's some more tassels for you. This dress is pretty cheap so I'll probably buy it soon. I have a feeling I'll wear it a lot this spring. It would also make a great over-up.
That's my wish list right now. What spring items are you in love with?